Join us for a Hand Sewing Workshop to raise funds for La Escualita de Macario Gomez in Tulum, Mexico. 
Monday October 29th 6-7:30pm | $35  | Sign Up
or
Monday October 29th 8-9:30pm | $35  | Sign up
---
We'll be hand sewing adorable Day of the Dead Felt Stuffies (that you keep).
All supplies are included. Make as many as you'd like in the 1.5 hour hand sewing workshop.
All proceeds from both of the Day of the Dead sewing workshops will go straight to La Escuelita de Macario Gomez (more info below).
Bring a photo of a loved one who has passed, to honor them for our Day of the Dead celebration.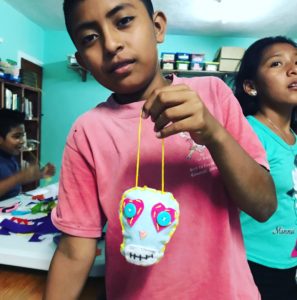 ---
Here's the backstory –
There's a little Mayan village called Macario Gomez just outside of Talum, Mexico. A women named Erika, who is originally from Jersey City, opened a BnB in this area and since has also started a much needed after school program there called La Escuelita de Macario Gomez. This school is completely run by volunteers and she started the Escuelita because as she puts it on their facebook page:
"They have no afterschool, no library, no music, no trips anywhere…no big homes with comfy sofas to read on, some do not even own chairs….or tables, or real plates to eat from! The list of what they lack could go on and on…"
"Yet the children are not bitter or depressed, they are happy and eagerly participate in any community activity – park cleanup , animal rescues, etc.. And they love to learn, draw, read, dance ."
Facebook Page of La Escuelita de Macario Gomez
Be the first to know!
Subscribe to our mailing list to hear about all our new classes, events and sewing studio news!